San Andreas Napa provides excellent customer service!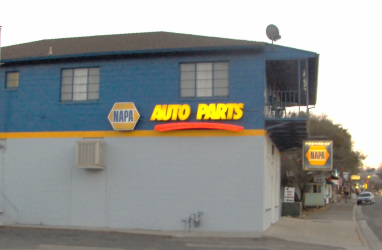 Tim and his team go the extra mile to make sure you are satisfied with your auto parts purchase experience. Tim is a second generation Napa Store Owner, with a wealth of knowledge that he uses to identify old or one of a kind parts. His Mom and Dad purchased their first Napa store when he was 9 and Tim grew up in and has worked the auto parts business for over 30 years!

In only his 3rd year of owning a Napa store, Tim's San Andreas store achieved "repeat" Five Star Status. This program is sponsored by Napa and stores must meet rigorous standards of education, presentation, customer service and improved sales to win the award. Only 10 percent of the roughly 3000 independent Napa stores achieve 5 star excellence. We strive to maintain and improve the store building to present a comfortable shopping experience.

Employees participate in ongoing Napa sponsored training In 2012, Tim passed the Automotive Service Excellence (ASE) renewal exam and Greg passed the ASE exam on the first try! 201 will see others studying for the ASE exam.

If you haven't been into the store lately, stop by to see the changes!

---
Coming Soon!

Do you have a teenager getting ready to drive? Make sure they know how to perform basic maintenance! We will be setting up classes in the upcoming year - more details soon!. The classes will be an overview of vehicle maintenance items every driver should be familiar with - checking oil, tire pressure, windshield wipers, lights and so on. Check back for more info!

The Team


Tim Eastburn (owner) - We would like to be your auto parts partner! If you don't find courteous, friendly customer service here, please let me know. I strive to run a store that is customer focused. Auto parts have been a part of my family since the day I was born. Dad worked at Napa Distribution for several years before purchasing his first Napa store in Sacramento. We moved to Calaveras County in 1996 and I have enjoyed serving San Andreas since then. When I'm not working, I like to hike, fish, work on my house and occasionally drive my Corvair.

---